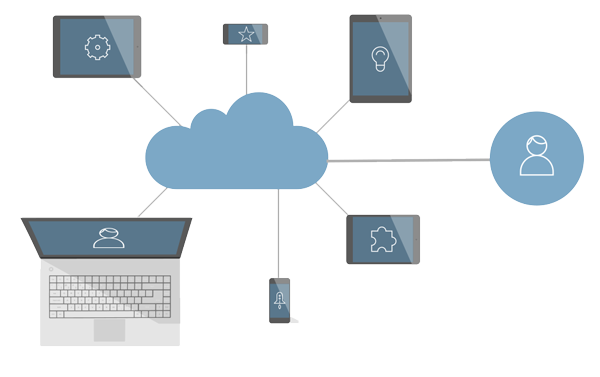 What makes Accident Records different?
Accident Records is the premium service of Lead Need LLC. We strive to deliver quality over quantity in a cost-effective manner for our clients. The process we use is unique in that it was created by someone in the PI industry. In fact, our founder is also a client and has been for more than three years with phenomenal results. He created it originally for his own practice!
We don't source old leads or send you every possible lead without review. That only ends up with hours wasted on the phone for no results, which our founder knows is all too common with most lead generation services.
The Accident Records system is designed to provide fresh, unattached leads that give you permission to call them! We find our leads when they're in the early stages of requesting their accident report, which is likely before they've even thought about calling an attorney. This avoids many pitfalls such as mistakes made early on or already being signed by a competing firm. We don't have spare time to waste, and you don't either—which is why you'll be thrilled with our program.
Let's talk numbers
We provide exceptional, guaranteed results for a flat monthly fee based on the number of people in your targeted region. The average region we target is a population base of around 3 million people. We do require a minimum of three months upon signing up, which we want to be clear on up front, as well.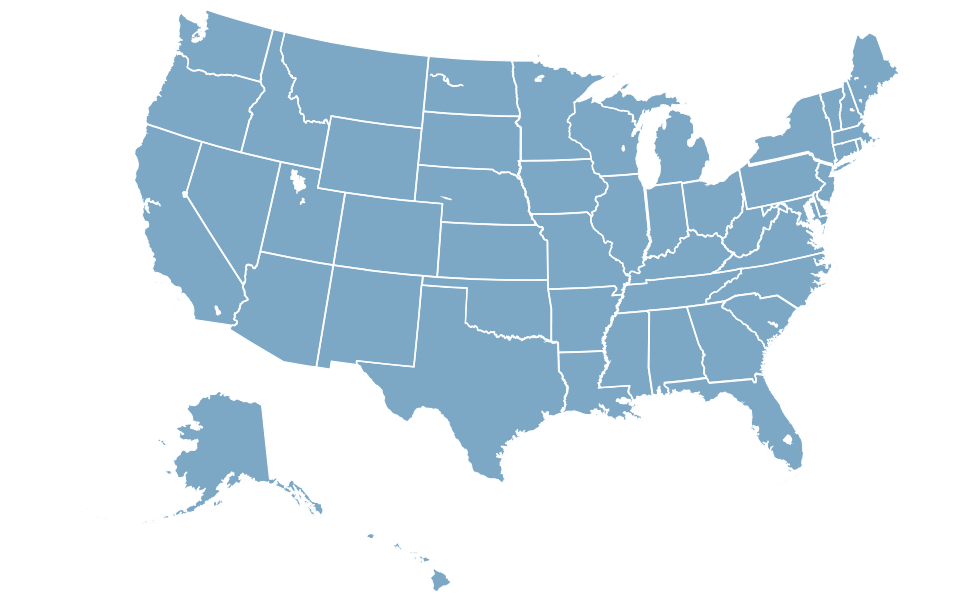 What do I get?
There are no surprises or hidden fees with us. We pride ourselves on transparency and simplicity. Our flat rate includes everything you'll need for a successful campaign:
Funding for your powerful AdWords campaign designed by a Google certified team dedicated solely to you.
Exclusivity to your region — Once you become our client, we promise not to sign on anyone else in your area!
A professionally designed custom landing page
Instant delivery of all qualified leads straight to you phone via email and/or text (or even direct into your CRM via API).
Access to live data to monitor the progress of your campaign, as well as monthly reports.
National average is 8-10 YES leads/per 1 million people we target in your region every month which you will call and begin your unique closing process into an 'Unattached Case'.
Typically 46% of leads say Yes.
Use of our call center to increase closings.
What about the ROI?
Keeping it simple, let's say your market is 3 million people. Combine that with a national average of ten 'YES' leads per million, and that's 30 'YES' leads per month.
 On the conservative side, we'll say your closing rate is ten percent.
That's 36 closed leads per year, which averages out at $180,000 per year at a $5,000 per case value.
 After deducted the annual cost of your leads, that leaves an ROI of $122,400…or $10,200 per month in profit for you. Yes, that's an average of only $88 PER LEAD. Compare that to the average cost using traditional advertising in excess of $100 per click!!!
 Maybe you have different numbers, which is likely. Try out our handy pricing calculator to get a more accurate ROI.
How many YES leads can I expect to call every month?
8-10 per 1 Million people we market / per month is our guarantee, though nationally we are seeing 18-20 yes leads per million marketed to each month.
So if your target population in your region is 3 million people, you can expect to receive between 24 and 30 Yes leads per month.
How good are you at Closing?
What is the Current National Closure Rate?
National closure rate is 4%.
Cost per Yes lead is currently: $88
New Feature: We have just added a call center to call on all Yes leads. Our call center staff are specifically trained to our system, increasing the close rate for our clients using it.
How does it work?
Your custom AdWords campaign drives leads searching for their accident police report to your landing page.
The lead will provide basic information such as the date of accident, name, phone number, email, and city/zip code. They also answer a simple "yes or no" qualifying question essentially asking if they're interested in receiving a call about legal representation for financial compensation.
After submitting their information, they'll be sent to a thank you page with instructions on how to obtain their report.
If they answered NO to the qualifying question, we have a built-in follow up system that encourage them to change their mind. If they do, you get notified immediately.
IF they say YES to the qualifying question, then their information will immediately be sent to you through your preferred communication method. We can even send it directly to your CRM via API if you wish!
Keep in mind these leads are RED HOT and should be contacted as soon as possible for the best results.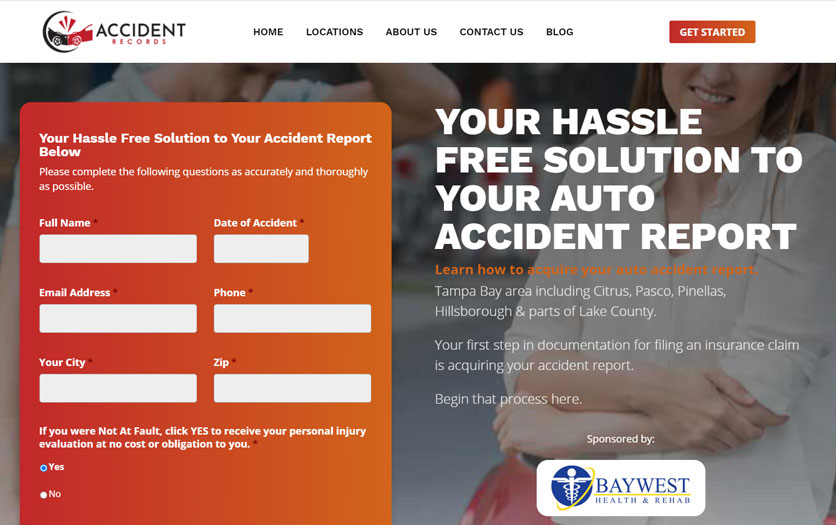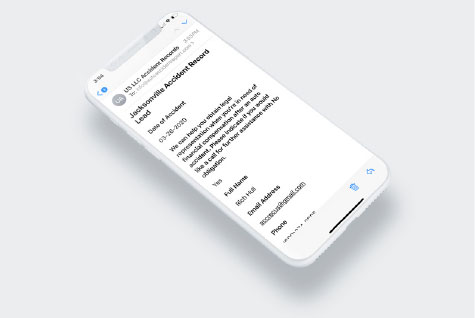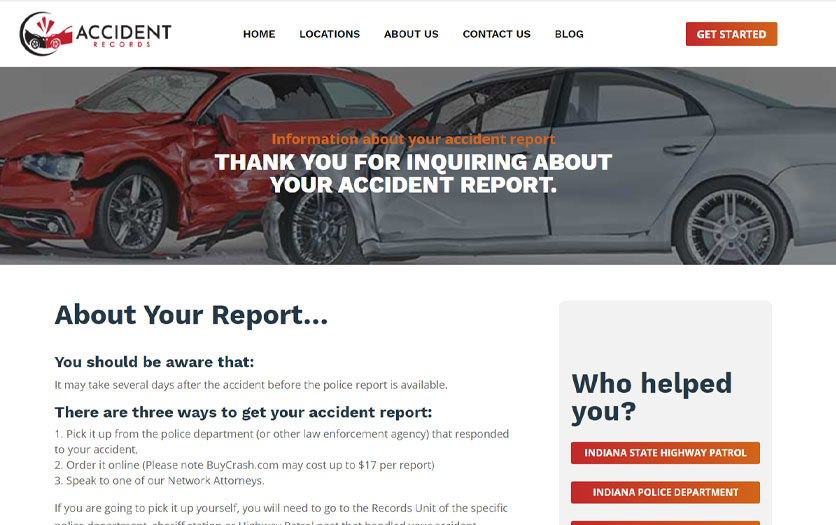 What does it look like?
Upon submission, the lead will provide date of accident, name, phone number, email, city and zip code. This information will be texted and emailed to you immediately.
Call them immediately, the lead is red hot!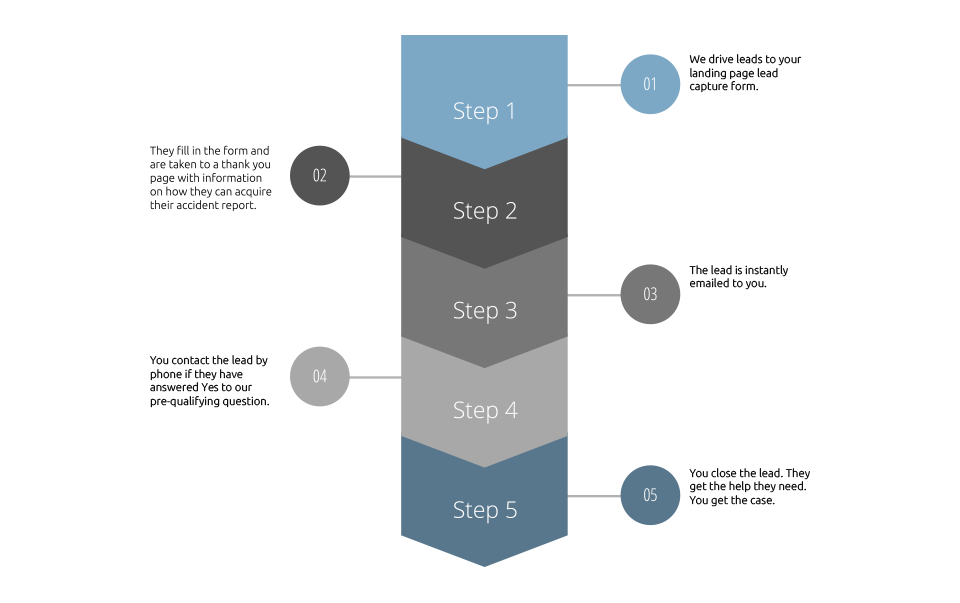 What is the Contractual Agreement?
Our minimum length of contract is 3 months. 
Our National attrition rate has been under 15%. For this we are certainly proud as it accentuates the value we provide for our clients.
Our founder is not just an owner, but a client as well, and has been for over 3 years and has seen growth every year in his numbers/closing rates.
Schedule a call today to discuss details about your specific region, including the exact population and fee (based on the rate mentioned above per million people targeted), so you are able to make a fully informed decision. Again, we don't like surprises and strive to communicate every detail with you.
Payment is through ACH on the first of each month. If you decide to join mid month, then your first payment is pro-rated and the full amount due the first of the month.
Our mission is to help you grow your practice while simultaneously helping accident victims reach a positive conclusion with their case. Let's see if our service is a good fit for you during a short discovery call with our founder, Scott Coletti.
Not your typical Accident Case Lead Generation…
We Cost effectively deliver fresh accident cases through our Unique process for attorneys throughout the US.
Our Team of Experts will build and manage your Accident Lead Machine with Exclusivity to your Market.
Schedule a Discovery Call to Learn More
Watch Your PI Practice Grow With Us